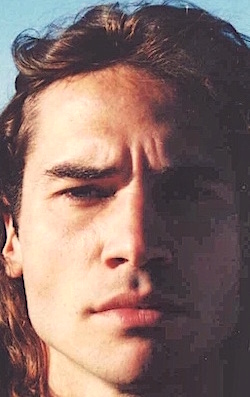 BIO: Drew Rouse is a 6″1″ tall, blue-eyed Nordic/Germanic/Celtic Native European & a fiercely independent writer & musician who has toured extensively throughout North America & Europe. He has captivated audiences from coast to coast & across the oceans with his Rawk & SoulFolk music with songs about Nature, both environmental & human nature, plus other fare.
Drew Rouse has a unique propensity and ability for meshing smooth rhythms and legendary guitar chops with driving and hypnotic melodies and beats around deeply relevant issues. Drew crafts his songs, not to perpetuate thoughtless escapism, but rather to fortify thoughtful, independent & critical thinking with lyrics that prompt us to maintain and assert our freedoms while urging us to respect our ancestors & protect our future generations while effortlessly deconstructing the deconstructionists.
Never preachy, the result is often described as "Rawk & SoulFolk Musik", "Art-Rock" or "Nativist-Folk". Rocking, Folkish & Soulful yes, but Drew also effortlessly meanders through an array of musical styles and genres within each set. His sound is melodic and powerful with a heightened sensibility that keeps your mind and body moving.
Drew's extensive and constant touring, energetic live performances, paired with Drew's solid charismatic presence has earned him a very diverse and loyal following worldwide!
FOR BOOKING CONTACT: bookingdrewrouse (at) gmail.com
"THE CONSCIOUSNESS IS RISING BECAUSE SOME OF US ARE LIFTING IT" ~D.R.
Fallow Drew On Social Media: